Traces containing chimeras and sequence rearrangements
Identification of chimera and rearranged sequences
The traces signal is high quality up to a point then becomes mixed. Sometimes the mixed signals appear to be related to each other in that the peaks present are 'echoed' latter in the trace.
The trace sequence data aligns to the expected data up to a point and then shows no further homology.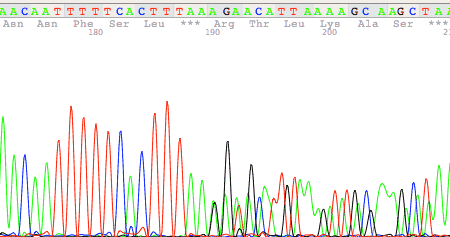 Figure 1. Example of a chimeric trace.
Causes of chimera and rearranged sequence
Cloning artifacts. Chimeras can result from clone two or more unrelated DNA fragments at once in the same vector.
'Unstable' sequences like repeats or or long mononucleotide runs. This is a common problem when cloning cDNA sequences as the long poly A tails can be quite unstable in many vectors or E. coli strains.
'Toxic' sequences. This can occur if the gene cloned is expressed in E. coli and is toxic to the cell. This tends to occur more commonly in high copy number vectors and templates with low a G+C ratio.
Strong secondary structure. Deletion can occur in regions of strong secondary structure. This is commonly seen when PCR products as cloned as the PCR process selects for these deletions artifacts.
Solutions chimera and rearranged sequence
Isolate and sequence another clone. This can solve the problem if the particular clone you have selected has undergone a rare mutation event. Sometime going back to the original plate and reelecting the same colony can solve the problem as the mutation may have occurred in liquid culture.
Use a low copy number vector or grow the cells at 30˚C. This can help maintain the stability of unstable or toxic sequences by reducing the selective pressure for mutation or rearrangement.
Don't over grow your cultures. The long the cells are grown for the higher the selection pressure for a deletion or rearrangement in the desired sequence.
Try cloning using a different E. coli strain. This can sometime work especially if you original used a non-cloning strain such as BL21.
Try adding some glucose to the growth media to inhibit expression of the LacZ promoter. This can help if the instability is being caused by leaky expression of the lacZ operon.
Return to the main DNA sequencing troubleshooting page.