Traces with poorly resolved or "blurry" trace chromatogram peaks
Identification of blurry sequencing traces
The trace peaks are very broad or "blurry". This blurriness occurs before base 500 for trace collected using 36cm arrays, or before base 650 for traces collected on 50cm arrays.
The nucleotide runs in the sequence appear as indistinct blobs rather than as individually separate peaks (Figure 1).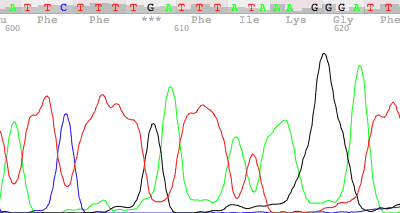 Figure 1. Example of a "blurry" or poorly resolved trace chromatogram collected using a ABI 3730 50cm array.
Causes of blurry sequencing traces
Capillary overload. This is normally caused by running "dirty" samples with large amounts of template (or other) DNA, proteins or salt.
High sequencing run voltages. The higher the run voltage the worse the resolution of the peaks in the trace file. High run voltages can also cause problems for the KB base caller resulting from the collection of the void peak.
Solving blurry sequencing trace problems
Use clean DNA. Avoid using templates that contain a significant amount of Genomic DNA, protein or salt.
Check the concentration of the template.If the template concentration is too high then resequence using less template.
Check that the correct run voltage was used. This can be determined by examining the run protocol contained with the ABI trace file.
For more information on detecting DNA sequencing trace problems please visit the QualTrace DNA sequencing analysis software page.
Return to the main DNA sequencing troubleshooting page.