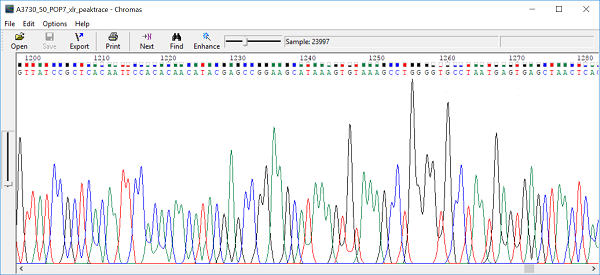 Developer: Technelysium
Supported platforms: Windows XP, Vista, 7, 8, 10
Download: http://technelysium.com.au/wp/chromas/
Features
View Quality scores
Yes, quality scores are visualized as colored bars over each basecall.
View raw data
No. There is an option called raw data export, but it actually exports the data intensities from the processed chromatogram in a text file. There is no way to see the raw data trace.
Assembly
Only available in the paid version.
Input file formats
ab1, SCF and ZTR
Output file formats
Save in .scf or .ab1. Export plain text, FASTA, FASTQ, EMBL, GenBank or GCG formats, or formatted with base numbering for presentation.
Trimming
Yes (trimming of low quality regions, vector sequence etc.)
Open multiple windows
Yes
Edit bases
Yes
ABI limits (regions outside of clear range region are displayed in grey)
No
Other functions
Enhance function to improve quality and get longer read lengths with PeakTrace processing*
Display translated sequence in 3 frames along the sequence
Reverse complement sequence and chromatogram
Multiple options to export and copy sequence and chromatogram data.
Batch processing for file export, printing, trim function, conversion, and PeakTrace enhancement
*Only the 20 first units are free
Cost
Chromas is free. Assembly of multiple sequences is only available in the paid version Chromas pro.
Comments
Chromas is a free and easy to use sequence viewer that offers all basic features (and a bit more) that you need to analyse sequence samples. The only drawback in my opinion is that it is not possible to see the raw data. If you need to assemble multiple sequences you can purchase Chromas Pro, a free 14-day trial is available.