The Auto QualTrace software offers an easy to use graphical interface for the QualTrace sequencing quality control program. This increases the accessibility of the QualTrace software for small-to-medium scale users as well as providing the following additional features:
An easy-to-use graphical interface that avoids the need for users to enter command line scripts.
An "Analyze Now" function allowing historical trace sets to be easily analyzed.
A background analysis feature that enables the traces to be be automatically analyzed as they are collected by the ABI DNA sequencer.
An "Auto Start" feature that launches the program on start up of the computer.
An built in Help and Results view.
Overview of Auto QualTrace
The Auto QualTrace program acts as a graphical interface to the powerful command line version of QualTrace. It has all the features of QualTrace while being easier to use for small-to-medium scale users.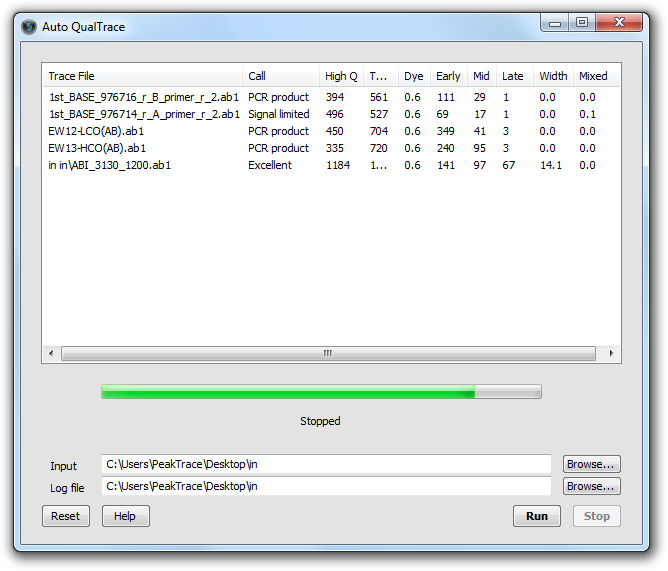 Auto QualTrace is started by choosing the input folder containing the set of traces (or sub-folders of traces) to be processed. The logfile location can be left blank in which case the Qualtrace lo file will be written to each input folder or sub-folder or alternatively a common logfile and location can be selected.
The results of the QualTrace analysis are written to the QualTrace log file.
The program setting defaults can be reset by selecting the Reset button.
Analysis of the the trace files is begun when the run button is pressed. Auto QualTrace can be paused by pressing the stop file. Auto QualTrace checks if new traces have been added to the input folder (e.g. as they are generated by the DNA sequencer) and automatically analyzes them every 15 minutes.
Auto QualTrace Help View
A easy-to-use Help view is provided with advice on setting up and running Auto QualTrace, an explanation as to what the trace analysis results mean for production quality, and advice on how to overcome identified problems.
The QualTrace DNA sequencing software is also available as command line version suitable to integrate into LIMS environments and versions are available for Windows (XP, Vista, Win7 & Win 8) as well as x86_64 Linux.
If you wish to trial QualTrace please visit our free online version at QualTrace Online.
For more information about the QualTrace software please see the QualTrace DNA sequencing users manual, or email our support team with any technical questions you might have.
---
Auto QualTrace Ordering and Pricing Details
The software licence is for a single ABI3730 DNA instrument. The software can be installed on an unlimited number of computers.
1x Auto QualTrace Instrument Licence [NUC-50-A] • US$2,500.00
2+ Auto QualTrace Instrument Licence [NUC-50-AX]
Please contact us at {This email is obscured. Your must have javascript enabled to see it} for a price quote. Significant discounts are offered for sites with multiple sequencing instruments.
Ordering & Shipping Details
The Auto QualTrace software is customized for your instrument and will be sent electronically to you within 24 hours. Multi-machine licensed versions are also available for facilities with more than one DNA sequencer.