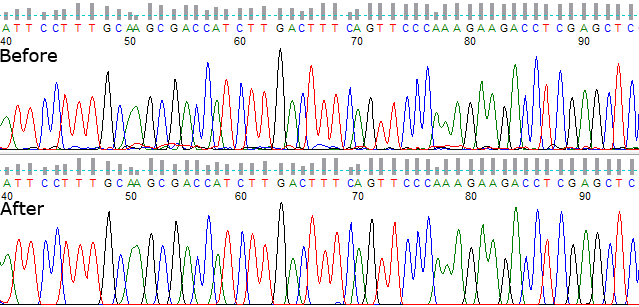 We have released a minor update for Auto PeakTrace and PeakTrace (6.81). The full list of changes and improvements include:
New Feature. Support added for

ABI 3730 ultra rapid 50cm arrays runs

ABI 3730 10.5kV 50cm array runs

Improved basecalling and detection of low quality mixed peak traces.

Improved trace normalization.

Bug fix for trace trimming modules.

With traces that are not improved, only soft trimming (abi limits) is applied. If the abi/kb basecaller is selected and set abi limits is unchecked then then the trace will still be hard trimmed.

Other bug fixes.
Auto PeakTrace 6.81 can be downloaded from the PeakTrace:Box Downloads page. If you do not have the password to access the PeakTrace:Box Downloads page please contact us @ {This email is obscured. Your must have javascript enabled to see it} or contact your local supplier for the update. The command line PeakTrace 6.81 for Windows and Linux is also available on the update pages.
This update is an optional update for all users of the Auto PeakTrace or PeakTrace 6.80. For user of Auto PeakTrace the changes are automatically applied on the server end.